Towards an Inclusive and Peaceful Society in Mozambique (TIPS) seeks to contribute to conflict prevention, crisis preparedness and response, and peace building through inclusive natural resource governance and management in Mozambique. This three year project is (Jan 2021- Dec 2023) funded by European Union, implemented by a consortium of FCA/NTRP, IESE and IMD with collaboration from COREM and Faith Associates.  On 19th May, the project was officially launched with the participation of representatives from the Ministry of Land and Environment, the European Union, and the Ministry of Foreign Affair of Finland, based in Maputo.
The event prioritized the  participation of local religious and traditional actors as well as civil society organizations working in the context of natural resources and extractives and peacebuilding, such as Aga Khan, Oxfam, CARE, Panos to name a few.
The Director of the Ministry of Land and Environment expressed support of the project, especially as the government has been been working to design programs and policies aimed to reduce the conflicts in areas of natural resources exploitation. Therefore, the TIPS project and research will complement government initiatives in aligning the strategies interventions. As a result, the government will seek to collaborate with actors of the TIPS Project in order to respond to the challenges of the natural resources sector to reduce poverty and increase the quality of life of citizens in Mozambique.
Speaking at the project launch, the European Union became a funder of the TIPS project as it wants to contribute to stability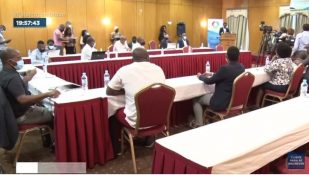 and peace in the region while bringing awareness to relevant actors of the policies that can generate the equitable and transparent distribution of natural resources in Mozambique.
As part of the TIPS project, research will be conducted on the root causes of natural resource conflicts as well as a mapping of existing local peace building structures, including religious and traditional peace building mechanisms. The Instituto para Democracia Multipartidaria (IMD) Country Director, Hermenegildo Mulhovo spoke upon the research component and the importance of understanding the causes of conflicts in Mozambique in order to develop capacities and actions for dialogue and engagement, particularly in the natural resources sector. Project partner Instituto de Estudos Sociais e Económicos Executive Director explained how the results of research focused on conflicts resulting from the exploitation of natural resources  will inform the advocacy actions for conflict prevention.