The Network of Religious and Traditional Peacemakers are delighted to announce our partnership in the European Union funded consortium project, ALLY – Amplifying Leadership of Local Youth in Preventing Violent Extremism in South Asia project.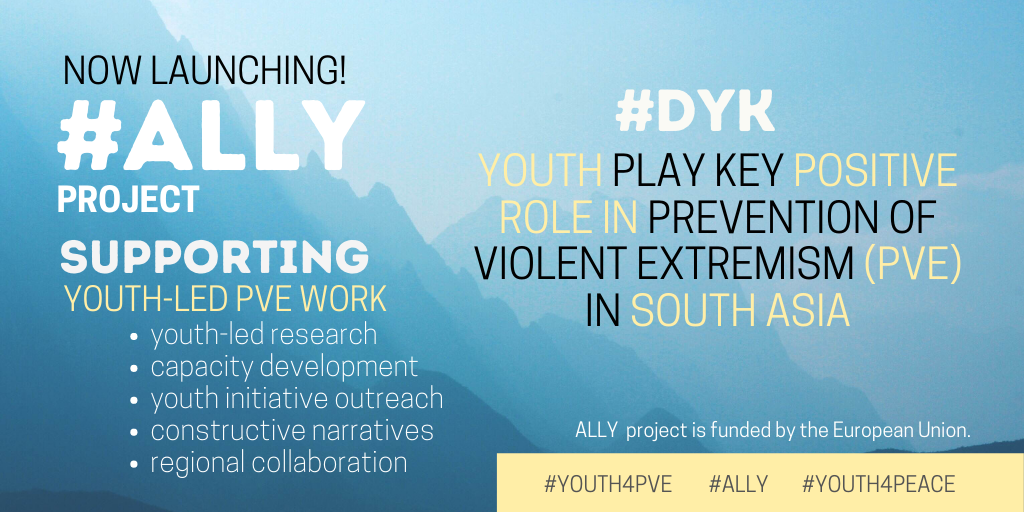 The ALLY project is a youth-sensitive initiative that aims to amplify the youth voices and actions in addressing diverse factors of violence and preventing violent extremism in South Asia, particularly in Bangladesh, Sri Lanka, India and Pakistan. The project aims at increasing knowledge of these factors, enhancing the multidimensional capacity of youth leaders and their strategies, and strengthen multi-stakeholder partnerships to prevent violent extremism in South Asia. The project primarily targets youth as agency-holder and strategic allies to media and decision-makers, to increase outreach for youth-led initiatives and constructive narratives that value the religious, ethnic and cultural diversity of the region. The project contributes to filling the gap of context-specific resources and collaborative regional actions on PVE in South Asia, strengthening regional and national level networks and youth movements.
ALLY is funded by the European Union and implemented in a consortium of partners, including: The Network for Religious and Traditional Peacemakers/ Finn Church Aid, United Network of Young Peacebuilders, Rural Development Society, Centre for Communication and Development of Bangladesh, Youth Development Foundation, and Sri Lanka Unites. ALLY project started in March 2020 and continues for 2,5 years.