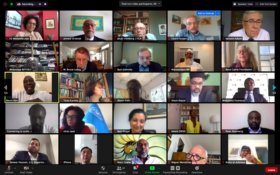 Over the past eight years, UN Under-Secretary General and Special Adviser on the Prevention of Genocide, Mr. Adama Dieng, has made significant strides towards advancing the role of the UN in genocide prevention while increasing UN engagement with religious and faith-based actors. In recognition of Mr. Dieng's remarkable achievements, the Network for Religious and Traditional Peacemakers, with the co- sponsorship of the permanent mission of Finland to the U.N., convened high-level government and UN officials and prominent religious and traditional actors from around the world to express their appreciation for Mr. Dieng's contributions.  This event was supported by friends at the United Nations and the Multi-Religious Steering Group, created by Mr. Dieng's office at the United Nations.
"Mr. Dieng has been a tireless advocate for human rights, conflict prevention, and humanitarian and development assistance around the world. He has led the UN Office on Genocide Prevention and Responsibility to Protect in the most able manner, strengthening collaboration and partnership with civil society, particularly with religious and traditional actors in addressing challenges that face humanity as a whole," stated Network Executive Director, Dr. Mohamed Elsanousi. 
Esteemed guests attended the event to show their appreciation to Mr. Dieng including: UN Under Secretary-General for Political and Peacebuilding Affairs, Ms. Rosemary Dicarlo, Executive Director of UNFPA, Natalia Kenem, UNAOC High Representative, Mr. Miguel Moratinos, Ms. Agnes Callamard, Special Rapporteur on extrajudicial, summary or arbitrary executions for the United Nations Human Rights Council, Ms. Michelle Bachelte, High Commissioner of the UNHRC, and Madame Michaelle Jean, Secretary General of the International Organization of La Francophone.
Minister Pekka Haavisto of the Ministry for Foreign Affairs Finland recognized Mr. Deing's unwavering leadership in drawing awareness to the role of religious actors in achieving sustainable peace and advancing the capacity of these actors to strengthen mutual understanding and community cohesion
Along with UN Leadership, religious and traditional actors offered remarks of appreciation at the event, including Shaykh Bin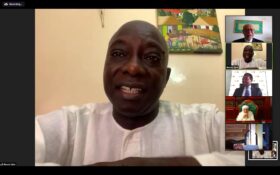 Bayyah, President of the Foum for Promoting Peace in Muslim Societies, H.E. Mr, Faisal Bin Muaammar, Secretary General of KAICIID an inter-governmental institution, Dr. Mohammed Al- Mamari as representative of the Government of Oman and Ms. Tarja Kantola, Chairwomen of the Finn Church Aid Board.
The Interreligious Steering Committee of the UN Office of Genocide prevention presented Mr. Dieng with an award in recognition of his efforts to advance inter-religious partnerships with the United Nations. The award was presented to Mr. Dieng during the event by Dr. Azza Karam, Secretary General of Religions for Peace. 
The Network has worked very closely with Mr. Dieng during his tenure as UN Special Adviser on the Prevention of Genocide to advance the role of religious and traditional actors in mediation and conflict prevention. Since the Network's inception in 2013, Mr. Dieng has been a strong advocate in advancing the Network's vision of a world where religious and traditional actors play a positive role in preventing violence and contributing to sustainable peace. 
Mr. Dieng has been a tireless advocate for human rights, conflict prevention, and humanitarian and development assistance around the world. His legacy and initiatives will continue to live-on in the United Nations and around the world.