The White House Webinar, "All In: Partnering with Community and Faith Organizations in COVID-19 Vaccination Efforts," brought together key figures and entities in the United States for a conversation about additional ways in which the community  can help end the COVID-19 pandemic. Dr. Mohamed Elsanousi, Executive Director of the Network for Religious and Traditional Peacemakers and Core Group member of Faiths4Vaccines brought examples ground of faith leaders working to advance equitable vaccine distribution and combat vaccine hesitancy.  The event also featured federal and state officials, vaccine providers and faith and community leaders who are working together to meet the challenge of equitable vaccine distrobution.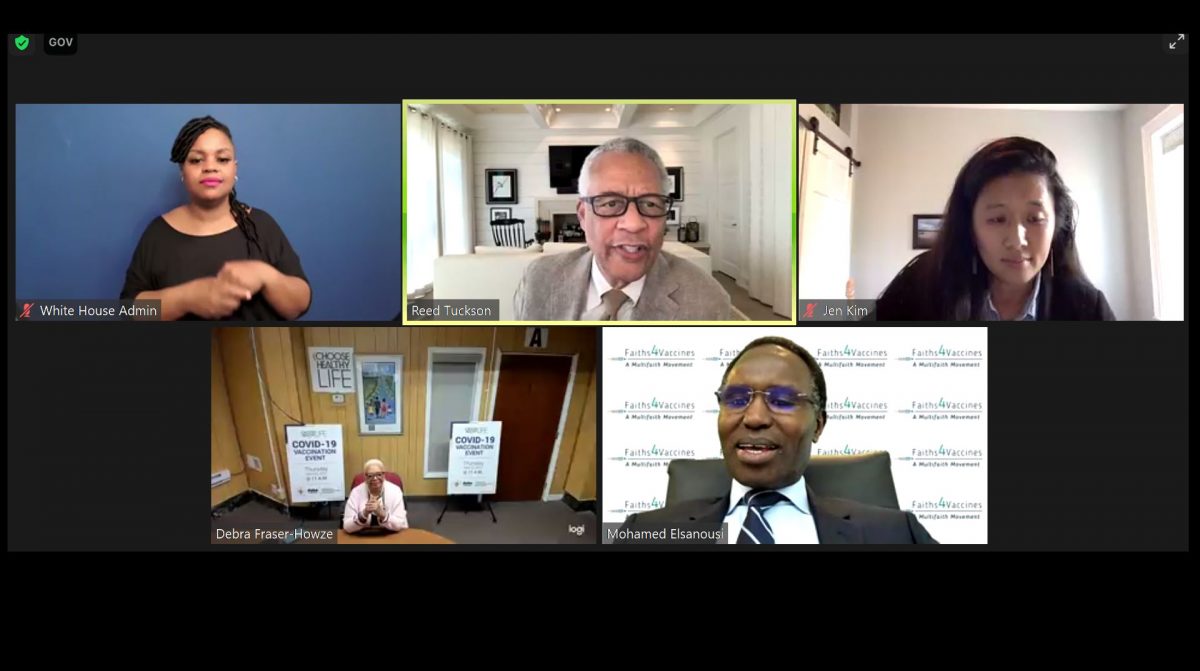 Since the onset of the vaccine distribution, faith communities have outwardly expressed their willingness and ability to support equitable vaccine distribution and combat hesitancy. This should not come as surprise. Nearly every faith tradition is deeply rooted in service to the community.  Prior to the pandemic, faith communities have engaged in health-related services, such as blood drives, health clinics and providing services for those to access health care through transportation and appointment scheduling.  With their prior experience in health services, and community service as a core value, faith communities are well positioned to serve as a key mechanism to advance equitable vaccine distribution and quell hesitancy.
Herd  immunity will only be achieved if communities utilize trusted locations, such as houses of worship, and trusted messengers, such as faith leaders, to support equitable vaccine distribution and vaccine acceptance.  As the United States progresses into phase 2,  there are sufficient doses to vaccinate the population however, communities hesitant to receive the vaccine.  The faith segment of the population can take an active role to supporting equitable vaccine distrobution.
Examples of Faith Leaders Utilizing Houses of Worship as a Vaccination Site:
The All Dulles Area Muslim Society in Northern Virginia is one of the largest Islamic centers in the nation. To support vaccination efforts, the ADAMS center collaborated with a synagogue and church, as well as Fairfax and Loudoun counties  officials and medical professionals, to utilize the mosque as a vaccination site and vaccinate the most vulnerable members of the community.   Among the 800 people who have received the vaccine at the mosque, 100 were undocumented immigrants.  The large attendance of undocumented immigrants at the site is a testament the trust and security they felt in the house of worship and in the faith community. It is unlikely that undocumented immigrants will attend a government-run vaccination site due to concerns surrounding legal documentation.
An interfaith vaccination clinic was held at Temple Beth El Synagogue, in collaboration with a local Methodist church and mosque, in Florida. The effort initially derived from the need to vaccinate elderly members of the  synagogue, some of whom are Holocaust survivors.  Through collaboration with the Florida Division of Emergency Management, the three houses of worship and 15 religious organizations were able to register and vaccinate over 500 community members majority of whom are elderly and Holocaust survivors.  The Vice President of a collaborating synagogue stated it was a "coming together of the community. When you see an interfaith assembly, bringing the community together, it really is encouraging."  He also believes that the number of people willing to receive their vaccine derived from religious leaders publically receiving their vaccine at the event.