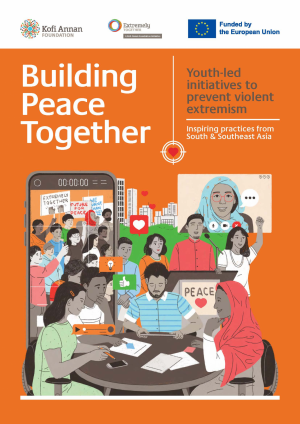 Together with over 30 civil society and youth organizations from South and Southeast Asia, the Kofi Annan Foundation and its youth initiative Extremely Together are excited to announce the launch of its new guide, Building Peace Together: Youth-led initiatives to prevent violent extremism. Inspiring practices from South & Southeast Asia.
Building Peace Together guide, which has been financially supported by the European Union as part of a 2-year project, is a collection of learnings and advice to guide and inspire other young people on their journey to build peace and social cohesion in their communities.
The Network for Religious and Traditional Peacemakers is proud to have contributed to the document by sharing how  the EU-funded Amplifying Leadership for Local Youth (ALLY) project helped to build the capacity of 60 young people in South Asia.
The ALLY Project is a youth-sensitive initiative focused at amplifying the youth voices and actors in addressing diverse factors of violence and preventing violent extremism in South Asia, particularly in Bangladesh, Sri Lanka, India, and Pakistan. The project aims to increase knowledge of these factors, enhancing multi-dimensional capacity of youth leaders and their strategies, and strengthen multi-stakeholder partnerships to prevent violent extremism in South Asia. The project primarily targets youth as agency-holder and strategic allies to media and decision-makers, to increase outreach for youth-led initiatives and constructive narratives that value the religious, ethnic, and cultural diversity of the region. The project contributes to filling the gap of context-specific resources and collaborative regional actions on PVE in South Asia, strengthening not only regional but also national level networks and youth movements.
Click here to download the full guide
What's inside the Guide?
Outlined in the guide Building Peace Together: Youth-led initiatives to prevent violent extremism are a set of proven practices from over 14 countries across South and Southeast Asia that can serve as inspiration and guidance for activities linked to preventing violent extremism. We also invite you to explore new avenues for PVE action, including building bridges with academia and adopting an intersectional mindset.
How is the guide designed?
The guide is structured around three primary goals for fostering a youth-led approach to preventing violent extremism and seven main challenges that PVE practitioners face. It offers solutions for overcoming these challenges and takes you through the process of reaching out to young participants through to scaling your movement and putting it on the global map.
The 'Building Peace Together: Youth-led initiatives to prevent violent extremism' guide also includes ten case studies from diverse local civil society organizations across South and Southeast Asia to demonstrate how these principles work in practice and inspire you when thinking about implementing your own creative approaches to PVE action.
How can it inspire youth?
While these practices are mainly inspired by our work with urban youth in South and Southeast Asia, we believe that the lessons learned from our experience can provide valuable insight into youth-led PVE action in various settings.
Youth movements drive positive action worldwide and prove that young people are active agents of change. By sharing these tips, we aim to encourage national or community-level grassroots organizations to pursue their efforts to prevent violent extremism in their area and give them the confidence to lead.