Click Here to Register
Join The Network for Religious and Traditional Peacemakers, Lutheran World Federation and World Council of Churches on 1 December at 9 am EST/ 3 pm CET for an interactive webinar focusing on the role of youth as agents of change, especially in the capacity of supporting interfaith solidarity.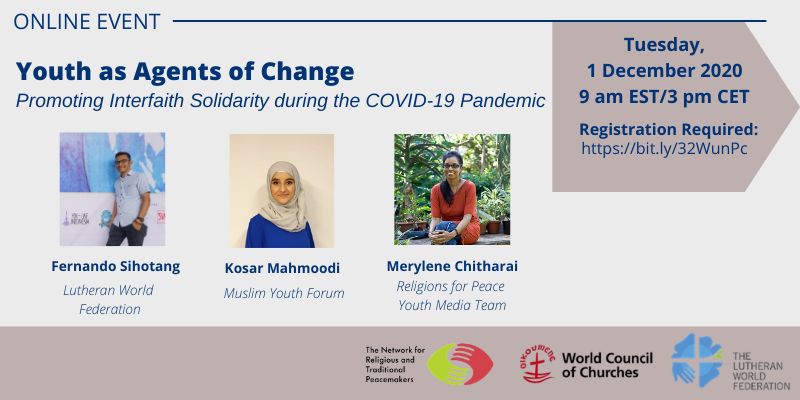 The COVID-19 pandemic has taken a great toll on communities across the globe, weakening our collective resilience to the virus of marginalization – propelled by hate speech, stigmatization and misinformation. As we respond and recover from this unprecedented global pandemic, strengthening interfaith solidarity will be crucial to prevent the marginalization of groups and support the building and maintenance of peaceful and inclusive societies.
Now, more than ever, we are reminded of ever-present need for interreligious solidarity. Recently the Vatican and the WCC produced a document 'Serving a Wounded World in Interreligious Solidarity' emphasising the need for discovering new forms of solidarity for rethinking the post-COVID-19 world. With almost 80% of the global population aligning with a religion or faith belief, communicating positive narratives through a religious or faith-based channel can serve as a mechanism to support understanding and solidarity within and amongst communities. Interfaith solidarity will help communities unite through understanding commonalities, respecting rights and caring for all of humanity.
Youth from around the globe have already made inspiring strides towards advancing interreligious solidarity and cooperation amidst the COVID-19 pandemic. Young leaders and youth-led organizations have taken an active role in ensuring communities receive accurate information about the virus while simultaneously striving to dispel harmful narratives, especially on virtual platforms.
Young people bring about transformative change and are uniquely placed to bring positive innovations in the ways the international community understands prevention of marginalization and violence. As we build a better, more peaceful, future beyond this pandemic, it is imperative that we ensure an active space for youth in advancing interfaith solidarity.