Dialogue in Peacebuilding – Understanding Different Perspectives now in Arabic
In 2019 peace advocates from the MENA region and beyond were invited to share their peacebuilding perspectives in a Development Dialogue volume. We are happy to announce the launch of the Arabic version of Dialogue in Peacebuilding: Understanding Different Perspectives.
Click here to read the Arabic Version
Click here to read the English version
Dialogue in Peacebuilding: Understanding Different Perspectives aims to deepen understanding and awareness of dialogue as a critical aspect of and tool for peacebuilding and for strengthening social cohesion. It features articles by practitioners and scholars, who share their experiences, including successes and challenges, in working to promote listening and greater understanding between groups.
"Bridging faiths and worldviews through dialogue"  was specifically written for the Development Dialogue by Network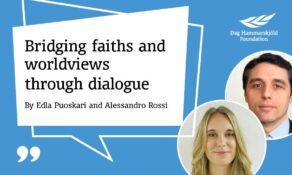 Secretariat members.  This article looks at how the Network has strived to increase the role of religious and traditional actors in conflict contexts. Since its inception in 2013, the Network has regarded dialogue within, between and across groups holding different religious traditions and worldviews as being at the centre of its work.  The role of religious and traditional actors can be important in advancing dialogue in any context where a worldview is depicted in conflict parties' narratives around identity, emphasising divisions between 'us' and 'them. '  Religious and traditional actors, respected by local communities can, using a shared set of principles and concepts, reach out more effectively to those who share their value systems and who could be attracted by extremist narratives. Intra-faith dialogue can thus prepare the ground for later efforts to reach out to the 'other', whether groups professing another religion or institutions seen as the embodiment of Western secular values. Effective dialogue in such contexts means also sharing knowledge and approaches with key religious actors in a way that remains respectful to their contextual, cultural and religious knowledge.