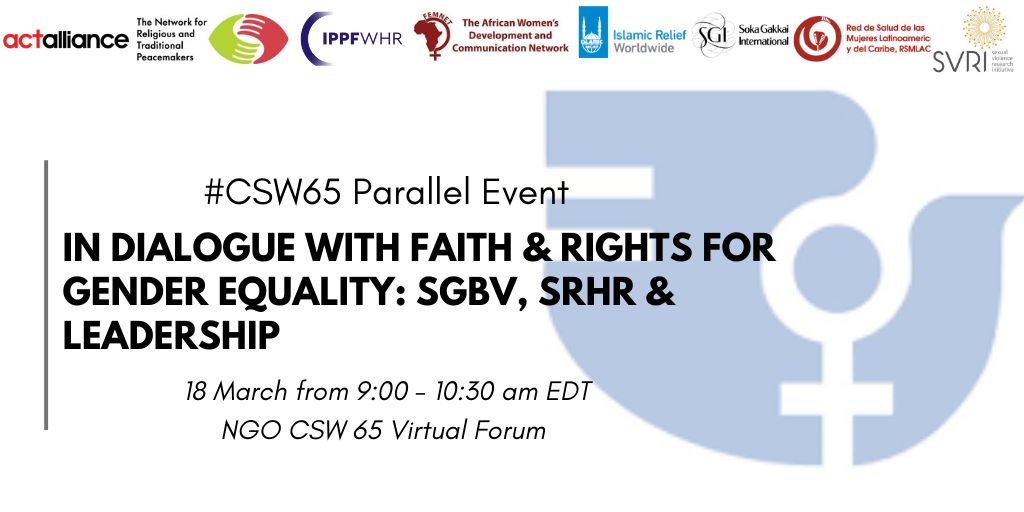 Click here to register
On Thursday March 18, from 9:00-10:30 AM EST, ACT Alliance, FEMNET, the Network for Religious and Traditional Peacemakers, Sexual Violence Research Initiative, Soka Gakkai International, IPPFWHR, Islamic Relief Worldwide and Red de Salud will host an event titled, "In Dialogue with Faith and Rights for Gender Equality," as part of the Sixty-Fifth Session of the Commission on the Status of Women (CSW).
The Beijing Declaration and Platform for Action (BPfA) has been described as the most progressive blueprint we have for women's human rights. In order to advance gender equality and women's empowerment, there is an urgency for all of us to work together towards achieving not only the ambitious aims stated in the 12 critical areas of the BPfA but the 2030 Agenda as well.
Over the course of 25 years, we have seen new coalitions, networks and partnerships develop to advance the rights of women and girls worldwide. We are ready to find even more creative ways for collaboration, breaking down existing silos, to accelerate the realization of the BPfA and Sustainable Development Goals through the Generation Equality campaign.
The Beijing Declaration acknowledges that "religion, spirituality and belief play a central role in the lives of millions of women and men." Secular organizations have experienced this reality, particularly at the grassroots and community levels, and have seen the need to partner with faith actors to work synergistically towards their common goals. Our hope is for this to be further expanded and strengthened. In order to achieve the 6 Action Coalitions and the Women, Peace and Security and Humanitarian Action Compact (WPS-HA), we believe that strong global partnerships and collaboration are essential. That would be the surest and fastest way to realizing gender equality. 
In line with the priority theme of the sixty-fifth session of the CSW on advancing, "Women's Full and Effective Participation and Decision-Making in Public Life," the Generation Equality Action Coalitions, and the Women, Peace and Security and Humanitarian Action Compact, this event will showcase examples of how faith-based and secular actors are working together to advance gender equality, including women's leadership and participation in public life. Our event's discussion will shine a light on our efforts and commitment to respond to Generation Equality's call for creative solutions, breaking out of our usual approach to stay in silos. The aim of our event is to bring together secular and religious feminists to demonstrate the possibilities from working jointly on shared goals.
CSW65, which will take place this year from March 15 to 26, offers an opportunity for a global intergovernmental body to focus exclusively on advancing gender equality and the empowerment of women all over the world. This year's priority theme will focus on, "Women's full and effective participation and decision-making in public life, as well as the elimination of violence, for achieving gender equality and the empowerment of all women and girls." Please join us for our event by registering as an advocate (for free) on the NGO CSW platform here. You can then access our direct event page here. 
Speakers

Bishop Mauricio was ordained deacon on the Epiphany of Our Lord Jesus Christ, January 6th, 1988 and as a priest on September 25th of the same year. His first Parish was the Parish of Santa Maria, Belém do Pará, northern Brazil. Elected General Secretary of the IEAB (The Episcopal Anglican Church of Brazil) at the General Synod of 1994, he moved to Porto Alegre, where he served the Church for three consecutive synod terms (1994-2003). Elected Primate Bishop of the IEAB in the General Synod, June 2006, in the city of Curitiba, he served for two consecutive synodal mandates (2006-2013). Bishop Mauricio has participated in various Inter-Anglican Commissions, attended the 2008 Lambeth Conference, and is a regular participant in the ecumenical movement and social movements in Brazil. He is a passionate advocate for Human and Planetary Rights, highlighting his support to the Landless People's Movement and Gender Equality movements in Brazil. Bishop Mauricio is currently the President of the National Board for Theological Education (JUNET) and Vice-President of the Commission for Theological Education in Latin America and the Caribbean (CETALC).
Halima Abba Zaid Ali is a Sexual Reproductive Health and Rights (SRHR) specialist with 13 years of extensive work experience in the East and South African region. She holds a BA in Development Studies and an MSc in Education for Sustainability from London South Bank University. Halima is currently a scholar with CEDAW for change Women's Human Rights Education Programme. She currently works as the SRHR Lead at The African Women's Development and Communication Network (FEMNET) headquartered in Nairobi, Kenya. Her role at FEMNET entails providing strategic oversight, technical design, and management of SRHR projects while ensuring FEMNET's SRHR portfolio is grounded on "Rights" and echoed by African Feminist Principles.
Shahin Ashraf MBE is the Head of the Global Advocacy for Islamic Relief Worldwide, she leads the organisations pioneering work on faith, gender, research, thought leadership and advocacy. Shahin is a senior leader in her field and has over 25 years experience, in addressing issues of injustice and inequality from an intersectional perspective. Prior to this Shahin worked at senior level at a number of global humanitarian, women's rights and civil society organisations. Her recently published work highlights the convergence of gender development and Islam. Shahin is the current co-chair of the International Partnership for Religion and Sustainable Development gender working group and she also sits on various gender, development and faith networks. She holds political office within the Green Party UK and was recently elected as a non-portfolio holder for Green Party Women with a special focus on women's political access to leadership.
Giselle Carino is the CEO for IPPFWHR, a progressive feminist ecosystem of 26 and growing local partner organizations largely from the global South, who share a common mission: to ensure universal access to sexual and reproductive health care; eliminate violence against women, girls and gender-diverse people; provide sex education; and fight for sexual and reproductive justice by dismantling structural sexism, racism, and other forms of oppression.
Sandra Castañeda is a Colombian Lawyer, feminist activist and human rights defender with a specialization in Political Studies and Cooperation Relations Europe – Latin America, at the Center for Latin American Studies of the University of Heidelberg; and a specialization in Human Rights of Women, at the University of Chile. Since 2001, I have been working in the Latin American and Caribbean Women's Health Network. Between 2001 and 2012 as program coordinator and from 2013 to date as General Coordinator. Specialized in advocacy at the global, regional and national levels in agendas related to women's rights, especially sexual and reproductive health and rights. As General Coordinator of LACWHN Sandra supports the strengthening of the advocacy capacity of nearly 900 women's organizations in the region.
Natsnet Ghebrebrhan works as the VAW Prevention Coordinator at Raising Voices, a feminist organization based in Kampala, Uganda. Natsnet supports all efforts across the dynamic team as well as participates in the Leadership Committee. She has been involved in the field of VAW prevention and response since 2001 and has a strong background on addressing VAW in the humanitarian context. Before joining Raising Voices, Natsnet worked in emergency and post-emergency settings in Eastern and Western Africa, and South-East Asia. 
Rev. Bafana Khumalo is Director of Strategic Partnerships at Sonke and one of the organisation's co-founders. He served as co-director of the organisation from 2006-2010 and as manager of Sonke's International Programmes Unit and the Policy, Advocacy and Research Unit from 2010-2011. He was senior gender technical advisory for EngenderHealth South Africa. In that capacity, he worked with the South African National AIDS Council, the National Department of Health, provincial and district AIDS Councils, and the Department of Basic Education to integrate gender into all HIV-related public health strategies and activities, incorporate comprehensive HIV prevention strategies and information into all education-related policies and programs for schools and communities, and support the South African government and community organisations in quality assessment and improvement of HIV prevention services.
Elisabeth Keuten is a member of the Generation Equality Youth Task Force, which was set up by UN Women in August 2019, and is part of the Generation Equality Movement. Elisabeth is currently studying anthropology and gender studies at the University of Göttingen (Germany), interested in postcolonial theories and gender equality. In recent years, Elisabeth was engaged in the youth council of Bread for the World Youth and a youth delegate for the ACT Alliance's Youth and Gender Community of Practice. 
Fariah Lalaikipian is a 23 year old youth champion from Meru County with an educational background in information security policy and governance. Her passion for AYSRHR is fueled by the challenges young people especially women and girls go through and the gaps that are in her Muslim community. As a youth champion in Meru County, she has participated in several county advocacy events & activities including advocacy for youth friendly services during county budget public participation forums, the review of Meru County SGBV policy in 2020 & advocacy for CSE in religious institutions. With the support of other champions, she was able to influence three Madrassa leaders to support incorporation of CSE in religious classes. In addition, through the Youth and Women Advocacy Network Meru, she coordinates innovative programs such as the "Msichana Imarika" program aimed at enhancing the leadership skills of young girls and women by building their capacity to understand and advocate for their rights and reduce their vulnerability to SGBV. She has been able to recruit over 30 young Muslim women champions against SGBV in the year 2020 through her initiative and program called Muslimah empowerment network (MEN). The Network is aimed at using value base approach to enhance young Muslim knowledge on their Sexual reproductive rights. She uses the Qur'an and other religious teachings as a backbone for her interventions
Ivy Koek of the Soka Gakkai International (SGI) is Program Coordinator for the SGI Office for UN Affairs in New York. Engaged in SGI's work at the United Nations in gender equality and women's empowerment and 1 the culture of peace mainly through its nonformal education approach since joining in 2013. She has served on the NGO Committee on the Status of Women, New York (NGO CSW/NY) Executive Committee since 2014; currently Vice Chair of the Committee and former Co-chair of the Young Professionals Subcommittee. Ivy's prior work has taken her to Venezuela, Boston, and Tokyo in the fields of education, study abroad, editing and translation. She has been involved in projects on issues such as young women's leadership, women peacebuilders, and child labor. Ivy holds a Master's degree in International and Intercultural Management with a concentration in Sustainable Development from the School for International Training and received her Bachelor's from the University of Georgia in Japanese with a Spanish minor.