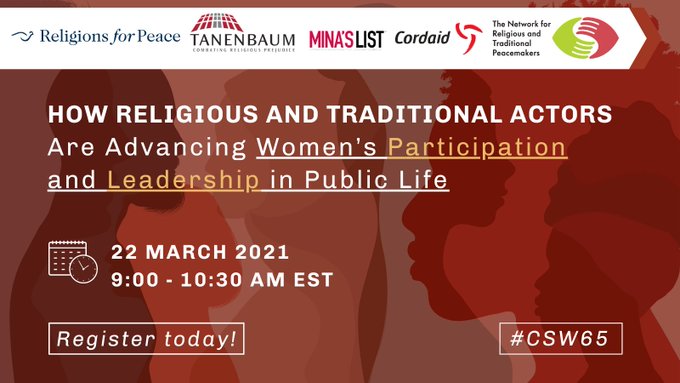 Click here to register
Religious actors have been at the forefront of their communities in shaping and advancing women's leadership and participation in public life, as political leaders, healthcare leaders, and leaders of peace. Their leadership has also helped to address the continued devastating impacts as a result of COVID-19 within their communities, as well as the growing backlash against basic human rights, including civil and political rights. This backlash can notably be seen within the advancement of women's leadership and the broader gender equality agenda. From discriminatory laws and social norms to targeted violence against politically-active women, these barriers prevent women, especially young women, from meaningful participation and from advancing into higher forms of leadership.
In line with the priority theme of the sixty-fifth session of the CSW on advancing, "Women's Full and Effective Participation and Decision-Making in Public Life," the Generation Equality Action Coalition on Women's Feminist Movements and Leadership, and the 2030 Sustainable Development Goals, the the Network for Religious and Traditional Leaders, Cordaid, the Tanenbaum Center for Interreligious Understanding, Religions for Peace and Mina's List  will host the event, "How Religious and Traditional Actors Are Advancing Women's Participation and Leadership in Public Life," on Monday, March 22 from 9:00-10:30 AM EST. The event will showcase examples of how religious actors, both men and women, are advancing women's leadership and participation in public life. Through a fire-side chat among six religious actors, the discussion will focus on best practices, lessons learned and a way forward in advancing women's leadership and pushing back against the push back on gender equality. The event will also offer practical recommendations for how other religious actors from around the world can do their part in advancing women's leadership and participation in the public sector.
Registering as an advocate (for free) on the NGO CSW platform here. After registering on the NGO CSW platform, you can access our direct event page here
CSW, which will take place this year from March 15 to 26, offers an opportunity for a global intergovernmental body to focus exclusively on advancing gender equality and the empowerment of women all over the world.