Click here to watch the webinar recording or to read the full transcript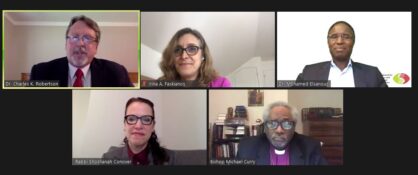 As part of the Council for Foreign Relations (CFR) Social Justice and Foreign Policy series webinar, Dr. Mohamed Elsanousi, Executive Director of the Network for Religious and Traditional Peacemakers, joined prominent religious actors to discuss how faith communities have responded to the crises of COVID-19 and racial unrest, and what we can learn from their experiences. Other panellists include Bishop Michael Curry, the twenty-seventh presiding bishop and primate of the Episcopal Church, and Rabbi Batya Glazer, director of the Jewish Community Relations Council of Greater Philadelphia, and moderated by Dr. Charles Robertson, canon to the presiding bishop of the Episcopal Church.
This discussion came at a critical time when the world is facing twin pandemics – COVID-19 and racial injustice.  The coronavirus pandemic exposed our weaknesses in terms of racial injustice and systemic oppression in the United States and around the world.  As Dr. Elsanousi emphasized, this is a time when we need a whole of society approach to efficiently address the pandemics.
Religious actors and faith communities are key components in addressing the twin pandemics through an all of society approach. Contextual theology is essential, meaning reexamining the fundamental pillars of theology and adapt to the reflect current situation. All religions embody the common ideals of all humans are created equal and help thy neighbor.  In understanding these common ideals through contextual theology, religious leaders and communities can help to strengthen mutual understanding and increase collaborative efforts between all sectors of society to combat these pandemics. In the United States, Muslim communities have been working together through the creation a task force to respond to the pandemics.  Within this task force, members are developing mechanisms to provide guidance to communities in terms of social justice, solidarity with vulnerable and strengthening interreligious relationships.
The COVID-19 crisis has further exemplified the significant role of youth in developing initiatives to serve local communities and increase community cohesion.  Specifically in these pandemics, youth have taken an active role in a technological capacity. For example, youth have been assisting houses of worship utilize technology to allow for virtual communication with their congregants.  Not only does this help to maintain community cohesion during a time of physical distancing, this will also help to encourage intergenerational dialogue between youth and elders.  The dialogue will create a level of collaboration that will help in the transfer of leadership, once the elders are no longer able to take full leadership responsibility.  To further exemplify the role of youth to peacebuilding practitioners, the Network convened a Southeast Asia roundtable focusing on youth and youth led action online and offline to prevent conflict in COVID-19 time. The roundtable provided a space for youth between 18 and 30 years old to share their country specific brief analysis and discuss key concerns and areas for further action with wider inter-religious peacebuilding practitioners.
Religious institutions have an important role in advocacy and partnerships with governments and multilateral institutions.  At a multilateral level, the COVID-19 pandemic exacerbated issues hindering the successful completion of the Sustainable Development Goals. The global community is also facing the challenge of trying to implement a global ceasefire in order to allow for safe, unhindered and sustained delivery of lifesaving aid, as called for by United Nations Secretary General, Antonio Guterres.   Despite these challenges, religious leaders are still playing a fundamental role to help further these critical initiatives. This is exemplified through religious leaders playing a fundamental role to in bringing the ceasefire call to the Security Council and push for a resolution, which was unanimously adopted.
At a government level, religious communities need to have a better engagement with elected officials and branches of government.  The increased engagement will allow for shared values of respect and tolerance to be embodied in political decisions, rather than for personal gains or with nationalistic ideals. Politics starts at the grassroots level, therefore we need to increase engagement at that level.
If we can create change at a local level, we will be more successful at seeing positive changes reflected at the national level.  Building community coalitions comprising of actors from all sectors of society is vital to ensure no one is left behind.  We, at the grassroots level, have the capacity to change the current trajectory of these pandemics to ensure we create a future with mutual understanding, tolerance and respect in which addresses the underlying systemic oppression impacting so many in the United States and around the world.
4 August 2020